This post was originally published on this site
We have officially started fall, one of my favorite times of the year. I love the cooler weather, the need for a sweater in the mornings and the evenings. I am a teacher so it is a time of getting back into routine and nurturing our school community. 
But today's reading from Ecclesiastes doesn't pull any punches. The things of earth are temporary. Whether we are young and full of vigor or getting on in years and wondering where our energy has gone, (Did I really argue with my Mom about going to bed at 9 pm?) we are only passing through a season of life. We need only look at the changing leaves to remember that seasons change. 
When we build our lives on the things of this world, we become dependent on consistency, on a desire to control the sameness in our life. It gives us a sense of power and control. A sense of control that is an illusion.
Today's readings offer us the opportunity to pause and reflect. We are reminded that what is happening around us is just a season and it will change. Our emotions and reactions to the world are fickle but God is not. When we can accept the seasons with grace and the confidence that "God's got this", we can say with the Psalmist, "In every age, O Lord, you have been our refuge." 
Regardless of what personal season you are experiencing today, take a moment to take refuge in God. The peace and love found there doesn't change with the seasons. 
---
Hemos comenzado oficialmente el otoño, una de mis temporadas favoritas. Me encanta el clima más fresco, la necesidad de ponerme un suéter por la mañana y por la noche. Soy maestra, y es un momento para volver a la rutina y nutrir a nuestra comunidad escolar.
Pero la lectura de hoy de Eclesiastés no llama mucho la atención. Las cosas de la tierra son temporales. Ya sea que seamos jóvenes y llenos de vigor o que estemos ya avanzados de edad y nos preguntemos dónde se ha ido nuestra energía (¿De verdad discutía con mi mamá acerca de irme a la cama a las 9:00pm?), solo estamos pasando por una temporada de la vida. Solo tenemos que mirar las hojas secas para recordar que las temporadas cambian.
Cuando construimos nuestras vidas sobre las cosas de este mundo, nos volvemos dependientes de la coherencia, del deseo de controlar la igualdad en nuestra vida. Nos da una sensación de poder y control, una sensación de control que es una ilusión.
Las lecturas de hoy nos ofrecen la oportunidad de pausar y reflexionar. Se nos recuerda que lo que sucede a nuestro alrededor es solo una temporada y cambiará. Nuestras emociones y reacciones al mundo son volubles, pero Dios no lo es. Cuando podemos aceptar las estaciones con gracia y la confianza de que "Dios tiene esto", podemos decir con el salmista: "Tu eres, Señor, nuestro refugio" por todas las edades.
Independientemente de la temporada personal que estés experimentando hoy, tómate un momento para refugiarte en Dios. La paz y el amor que se encuentran allí no cambian con las temporadas.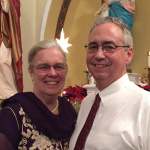 Sheryl is happy to be the number 1 cheerleader and supporter for her husband, Tom who is a candidate for the Permanent Diaconate in the Diocese of Kalamazoo. They are so grateful for the opportunity to grow together in this process. Sheryl's day job is serving her community as the principal for St. Therese Catholic School in Wayland, Michigan. Since every time she thinks she gets life all figured out, she realizes just how far she has to go, St. Rita of Cascia is her go-to Saint for intercession and help. Home includes Carlyn, a very, very goofy Golden Retriever and Lucy, our not-so-little rescue puppy. 
Feature Image Credit: Chris Lawton, unsplash.com/photos/5IHz5WhosQE