Sacred Heart Catholic Church Respect Life Ministry
---
Calling All Prayer Warriors! October 23-31, 2021
There is a great battle between Christ and Satan happening in the world right now.
Join our year-long Pray and Fast for America 2021 Campaign.
Commit to Pray and Fast Today
"And He said to them: this kind can go out by nothing, but by prayer and fasting."
– Mark 9:29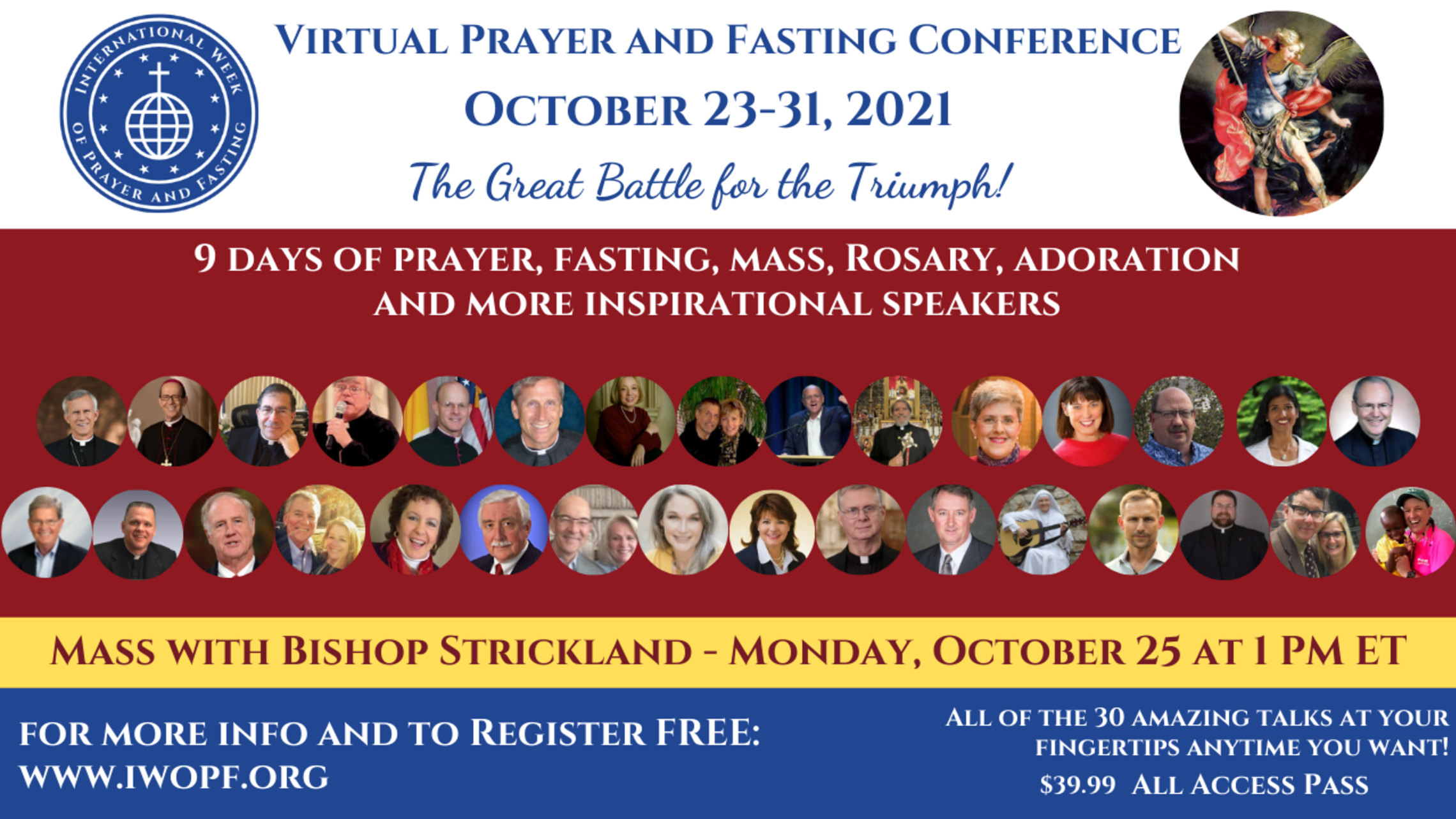 ---
Human Trafficking Presentation:
For more information contact: Judi Paparozzi <jpaparozzi@yahoo.com>
OCTOBER 26, 2021 – Judi Paparozzi, Adjunct Professor of Law and Criminal Law at UNC Pembroke, will present a two-part virtual presentation via Zoom on Tuesday evening, October 26, beginning at 6:30 PM. Topics covered include (1) the impact of social media on the epidemic rise of human trafficking, (2) how to keep your children  and grandchildren safe while online and on the cell phone, and (3) why human trafficking is also a respect life issue.  Join the presentation session one from home at
https://zoom.us/j/93824230379?pwd=WUUydFlGTm85czZjODNwWjZ3eisrQT09
Meeting ID:  938 2423 0379   Passcode: q9C57v
Session two will begin immediately following session one at
Meeting ID:  942 2225 8241  Passcode: U7w3gh
---
---
Prayer/Worship

Rosary for the Unborn every Friday
Rosary to the Sorrowful and Immaculate Heart of Mary the First Sunday of each month
America Needs Fatima Rosary Service Sunday in Oct
Knights of Columbus Stations of the Cross for the Unborn
Knights of Columbus May Crowning of the Blessed Mother Statue to the Unborn on Mothers' Day

Pastoral Care

Quarterly meeting with Pastor and the Ministry members
Diaper Drive for Catholic Charities in Aug-Sep
Baby Item Donation Basket for Brunswick County Charities (Year 'round except during Diaper Drive and Ladies' Guild Dresser Project

Advocacy

Love My Life Youth Rally and March for Life in Raleigh
40 Days for Life in Wilmington

Education and Outreach

Weekly Pro-Life Info in Parish Bulletin in the "Culture of Life Corner"
Respect Life Bulletin Board Display
Coordination with Knights of Columbus Respect Life Initiatives
Member of Cape Fear Deanery Pro-Life Organization

Contact Info

Parish Respect Life Coordinator – Joe Volpe
Assistant Parish Respect Life Coordinator – Christine Volpe
---
Mission of the Sacred Heart Parish Respect Life Ministry
 The Parish Respect Life Ministry is tasked with supporting the objectives of the Diocese of Raleigh Respect Life Initiatives and Programs. Specifically, The objectives of the parish pro-life ministry are to:
coordinate parish implementation of the annual Respect Life Program, promoting it to agencies and organizations in the parishes, especially schools and religious education programs; and encourage parish discussion groups to use the program as a basis for their discussions
promote and assist pregnancy counseling and comprehensive maternity support services, as well as post-abortion counseling and reconciliation programs, and make these well known in the parish and local community
develop or adopt, where feasible, a parish-based ministry to pregnant women and their children
encourage and support parishioners' involvement in services to help those who are chronically ill, disabled, or dying and their families
sponsor programs of prayer in the parish to pray for mothers and their unborn children, for those who are dying, for those who are disabled, for prisoners on death row and those they have harmed, and indeed for all who are in need, that the culture of death that     surrounds us may be replaced by a culture of life
foster awareness of the need to restore legal protection to the lives of unborn children to the maximum degree possible and to safeguard in law the lives of those who are chronically ill, disabled, or dying
keep parishioners informed of upcoming important legislation; and, at the direction of the diocesan pro-life director, organize letter-writing, postcard campaigns, or similar appropriate activities when important votes are expected
The Parish Respect Life Ministry should play a vital role in parish life and enjoy the strong support of priests and other key personnel. The committee should also dovetail its efforts from time to time with other programs of the parish. For example, in many parts of the country, parishes conduct programs where parishioners study and discuss the teachings of the faith. Members of the pro-life committee should take part in such programs and invite other program leaders to take part in pro-life initiatives.